Research Departments
The Federal Government is aiming to achieve sustainable expansion of the energetic use of biomass, so that it becomes an important mainstay of future energy supply. This expansion is intended to make an important contribution to climate and environmental protection, to the conservation of fossil resources, security of the power supply and to augment added value, especially in rural regions and in agriculture and forestry. However, the energetic use of biomass can only become permanently established if this is achieved sustainably, i.e. in an economically justifiable, ecologically forward-looking and socially compatible way.

Against this background, the scientific task of the Deutsches Biomasseforschungszentrum (DBFZ) is to comprehensively support the efficient establishment of biomass as a valuable resource for sustainable energy supply within the scope of applied research and to drive it forward, both theoretically and practically. The establishment and integration of biomass in the range of existing energy sources takes place with simultaneous inclusion of technical, ecological, economic, social and energy management aspects along the whole usage chain, i.e. from production through to supply and use. In addition, the DBFZ is to draw up sound decision-making aids for politicians.

The DBFZ also does the following work:
Testing and certification of solid and liquid biofuels and plants for the supply of heat, electricity and fuel.
Advising private and public establishments on all aspects of "energy production from biomass".
Market monitoring and supply of data on "biomass/bioenergy".
Work on national and international committees and commissions, among other things for standardisation and drawing up directives and guidelines.
Supporting federal ministries in strategic issues concerning "biomass/bioenergy".
Networking activities of relevant players within the "biomass/bioenergy" sector.
The relevant target groups for the DBFZ, apart from the Federal Ministry of Food and Agriculture (BMEL) and other federal and state ministries, include governmental and non-governmental, national and international organisations and branches of industry which are directly and indirectly affected by energy production from biomass. The development of new processes, methods and concepts takes place in close cooperation with business partners and research facilities. In this way, research networks between industry and science are also initiated and promoted. We also network with agricultural, forestry and environmental research facilities, among others, with the BMELV's research department, major non-university research organisations (in particular the Helmholtz Centre for Environmental Research - UFZ), the state research facilities, selected universities as well as with other German, European and international institutions working on energetic biomass research.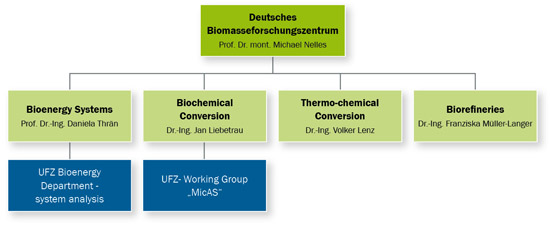 The four research departments of the DBFZ and the working groups of the UFZ